Get a Game Plan Natchitoches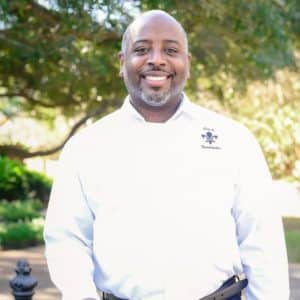 Ronnie Williams, Jr.
In 2020, Hurricane Laura made landfall two days after I took the oath of office as Mayor of the City of Natchitoches. I assume Laura all looms ominously in our memory, and history will forever record it as one of the most devastating storms in Louisiana's history to have made landfall. An event such as this helps to make one keenly aware of the necessity to strategically plan for the next natural disaster. As one emergency professional noted,
"The most effective way to prepare for any emergency is to prepare for it before it happens."
That's precisely why I am asking members every household in Natchitoches to develop a plan that will adequately prepare their family for the next big natural disaster. We hope citizens will utilize this webpage to
"Get A Game Plan"
for emergency situations from the information provided on this page as well as visiting the Governor's Office of Homeland Security and Emergency Preparedness webpage Get A Game Plan. Additionally, the City has partnered with Regroup, a mass notification messaging service, to help the administration disseminate information more seamlessly to residents during times of crises. To that end, I am encouraging every resident to download the Regroup-Alert Me app to bolster the flow of information during both emergency and non-emergency circumstances. A list of these resources and others can be found on this page.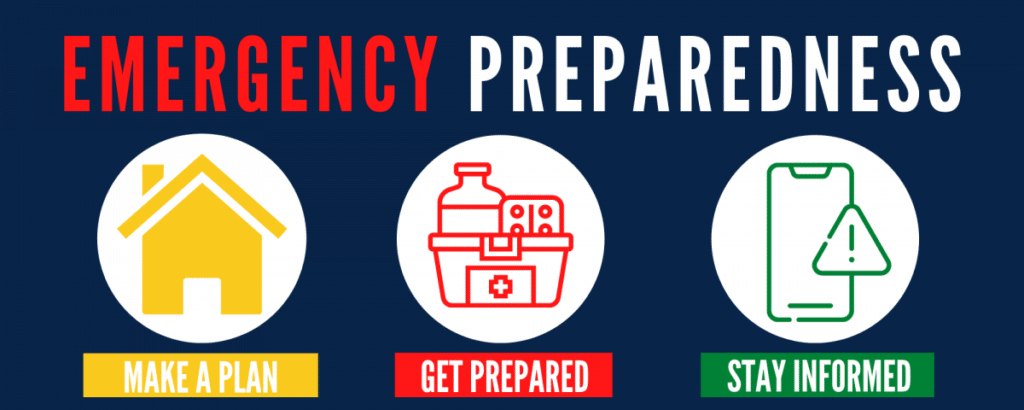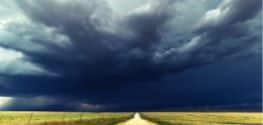 BEFORE THE STORM
Being prepared ahead of the storm is the first step to keeping your home and family safe.
Gather an emergency outage kit that includes:
Flashlights and fresh batteries
Battery-powered radios or televisions
Candles, matches, lighters
Water for drinking and cooking
Portable oil or gas heater*
Camping equipment like sleeping bags, camp stoves, and lanterns
Non-perishable food and a manual can opener
Manufacturer's instructions for your generator (if applicable)
Instructions for how to manually open your garage door (if applicable)
Important over-the-counter medications
*Caution: Some portable heaters can cause fires or other safety hazards when not used as specified by the manufacturer. Be sure to review the safety specifications of your specific model before using it during an outage.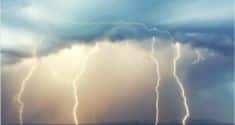 DURING THE STORM
When the rain or snow is falling and the wind is howling, we might lose power in our homes. If a storm knocks out the electricity, here are a few tips to stay safe:
Stay away from sparking equipment or downed lines and anything they may touch.
Never remove debris that's within 10 feet of a power line.
Unplug major appliances to protect them when the power comes back on.
Leave a light switch turned on so you know when power is restored. 
Refuel heaters, lamps, and generators outside and away from flames or sparks. Wipe up fuel spills immediately.
Let us know if you are using a generator – this protects you and our line workers as they work to restore power.
Never operate lanterns, heaters, or fuel-fired stoves without proper ventilation.
Never burn charcoal indoors. It releases poisonous carbon monoxide.
Don't let children carry candles or oil lamps.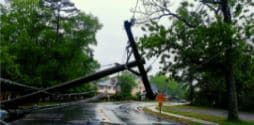 AFTER THE STORM
Stay alert to hazards after the storm passes. When it's safe, assess the damage around your home.
Always remember this life-saving rule: Keep you and your loved ones away from standing water near wires and appliances.
Remember to stay away from downed power lines.
IN AN EMERGENCY CALL 911
WHAT EMERGENCY ALERT SYSTEM IS RIGHT FOR ME?
It is recommended everyone utilize an Emergency or Early Alert Warning System.  This can be accomplished by many different methods.  The state has several tools to facilitate emergency communications via Get A Game Plan.  Those include:
Louisiana Public Alert System (EAS)
Integrated Public Alert+Warning System (IPAWS)
Other Emergency or Early Alert Warning System apps are available for your phone or computer. The City of Natchitoches will be utilizing Regroup Mass Notification – Natchitoches on a local level to keep us safe and informed.  This simple and effective mass communication tool will allow citizens to sign up to receive alerts from the City by creating a profile with contact information that will include one or all of the following:
Phone Numbers (home, work, and/or cell)
Email Address 
Physical Address(NOT REQUIRED, but can help in situations like isolated power outages, road closures, or boil advisories)
You can sign up via the link under the Resources column located on the left side of this webpage or follow the instructions below for downloading the app.