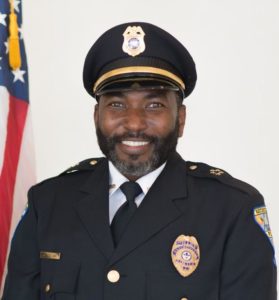 Chief of Police
Nikeo Collins
Greetings from the Natchitoches Police Department. We at the Natchitoches Police Department stand ready to protect any and all who enter our city from our loyal citizens to each visitor that comes our way, all are important.
Our department is composed of 70 full-time personnel when at full staff. This includes the traffic and patrol line officers, investigative officers – both adult and juvenile, administrative staff, dispatchers and records clerks. We are also part of a multi-jurisdictional drug task force in which we partner with the Natchitoches Parish Sheriff's Office to go after the drugs that may enter our city and parish.
Each and every area is directly overseen by an experienced supervisor dedicated to making each person in his/her command a better employee. Our mission is obvious – to catch the bad guy and put him in jail. Each call for assistance is handled swiftly and professionally from the dangers to human life to quality of life requests such as loud music and traffic complaints.
The officers at the Natchitoches Police Department are constantly attending training in various areas to gain the most up to date knowledge available and provide citizens with the most professional officer possible. We have also created a new position which places an officer in the downtown area to provide a safer environment for our tourists. We take advantage of government grants that assist us in putting additional officers on the street in different areas.
This includes the DWI Task Force, Occupant Protection details and a grant allowing us to send off-duty officers to check on the welfare of domestic violence victims. What this means is that we are able to put additional officers on the street apart from those on duty, providing a larger police presence for all to see.
We recently became able to answer our own E-911 calls. This means we no longer have to wait for emergency calls to go through the Sheriff's Office E-911 Center before the calls are transferred to Natchitoches Police to have a unit respond to the call. This new capability cuts down on the response time to those in need of help.
The Natchitoches Police Department is here to serve. When we are called, we go!
Divisional Commander of Operations
Assistant Chief of Police