Welcome to the City of Natchitoches
The City of Natchitoches Office of Community Development oversees capital projects that enhance the community.  Such projects include the oversight of the recent rehabilitation of Front Street, sign installation and the renovation of City Hall.  The department is responsible for preparing and tracking annual Capital Outlay Budget requests to the State of Louisiana for infrastructure improvements.
The Office of Community Development serves as the City's economic development liaison, helping developers find suitable properties, infrastructure and incentives for their projects.  Community Development works directly with the Natchitoches Economic Development Commission to foster development opportunities in the area.  To learn more about such opportunities, please visit www.natchitochesonthemove.com.
The City's beautification crew, maintenance crew and carpentry shop fall within the department's responsibility.  A licensed horticulturist and assistant are responsible for the landscaping and upkeep of City properties including the Natchitoches Events Center, gateway entrance signs and hanging flower baskets found in the Natchitoches Historic District.  Maintenance staff members are responsible for making repairs to City-owned buildings and properties.  The department is routinely assisted in their efforts through an inmate crew from the Natchitoches Parish Detention Center.
The City of Natchitoches Office of Community Development is open Mondays through Fridays from 7:30 a.m. to 4:30 p.m.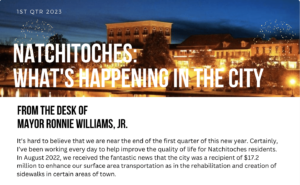 News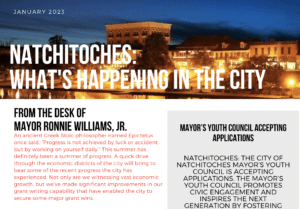 News
August/September 22 by City of Natchitoches
Read More »
Contact: Nicole Gray, City of NatchitochesPhone: (318) 352-2772Email: ngray@natchitochesla.gov October 6, 2022 The City of Natchitoches will hold a public hearing at 6 p.m. on Thursday, October 13
Read More »