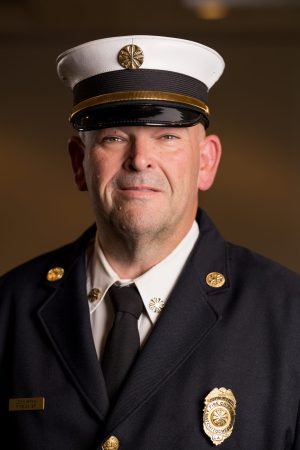 The mission of the Natchitoches Fire Department is to protect and serve our community and its visitors by providing professional, caring, and safe emergency and non-emergency services which protect Life and property through Fire Prevention, Suppression, Rescue, and other specialized programs.
The members of the Natchitoches Fire Department believe in promoting our Core Values which are INTEGRITY, COMMITMENT, TEAMWORK, INNOVATION, PROFESSIONALISM and CARING, COMPASSIONATE service to its community.
I am proud to represent the Natchitoches Fire Department and the City of Natchitoches and those that staff the apparatus and respond to the many different needs of our community with selfless courage and sacrifice.
Thank you for visiting our website and be sure to build your relationship with those that come in your time of need and please visit your local fire station whether it is in Natchitoches or wherever you call home. 
Fire Chief John Wynn
The City of Natchitoches Fire Department covers approximately 25.1 square miles with a population of 18,323 according to the 2010 census. The department maintains three fire stations with Central Station located on Second Street, Station Two on East Fifth and Station Three located on Martin Luther King Jr. Drive, a fire education facility next to Central Fire Station, and a fire training facility located at the Northwest Louisiana Technical College. The department has 3 fire engines, 1 reserve fire engine, 1 rescue truck, an aerial apparatus along with other specialized equipment to serve the needs of the community.  We have a total of 42 members on duty 24 hours a day between A, B, and C Shift and 4 administrative positions which are five days a week and on call. 
The City of Natchitoches Fire Department provides Fire, EMS, Rescue, and Hazardous Materials Response, has a Dive Team along with non emergency programs such as fire prevention, public fire education, fire investigations, annual fire inspections and pre-incident fire planning. 
The Natchitoches Fire Department is currently a Class 2 Fire Department.  Fire Departments are rated by the Property Insurance Association of Louisiana on a scale of 1 through 10.  Class 1 being the highest or best rating and class 10 being the lowest or worst rating and are based on several criteria which include 40 percent for water distribution, 50 percent for fire department equipment and manpower, and 10 percent on communications with additional areas of opportunity possible for community risk reduction.  Our Fire Rating has a direct bearing on the cost of property insurance in our community.